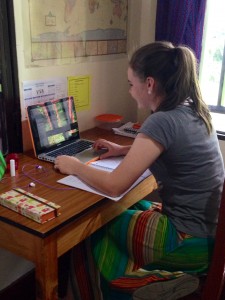 If you heard shouts of celebration coming from one of the high-school classrooms or saw some of the high schoolers raising their arms in triumph, don't be alarmed! At the beginning of the school term, each high-school student set individual goals for their academic calendars. Because there are no deadlines or due dates in the Keystone online classes, students have to set their own schedules and hold themselves accountable to their personal goals. At the beginning of the school term, the students divided the academic school year into 4 equal parts. Then each academic subject was divided into four parts based on the number of assignments.
After dividing the year and class assignments into four parts, we could easily set a goal for each class. This helps us stay on a schedule with our online classes. Reaching our first goal meant that we were 1/4 of the way through our classes and our school year…

~ explained High-school 9th Grader Aidan Miller
With a big smile, Matthew Crowson recalled the Monday after reaching his first goal.
We celebrated by drinking Fantas and eating popcorn all day in our classroom! We worked diligently to keep up with our assignment schedules. Even though we took time to celebrate our success, Aidan and I kept right on working towards our next goal, which is December 18th.
The first goal date was October 23, 2014 and VVA's 9th Grade Class succeeded in meeting the first goal for all courses! Congratulations to Aidan Miller and Matthew Crowson!
~ Julie Reagan